Activities at Svartå Manor


OUTDOOR ACTIVITIES

The Devil's Automobile, about 1 h
Hjalmar Linder is perhaps Svartå Manor's most colourful historical personality. In his time, he was Finland's richest man and he loved cars. In 1902, he imported Finland's second car, a French Mors with a top speed of 25 km/hour. As the car and its driver moved without horses, it was christened "The Devil" by locals. Each team has to create their own car using the material provided. When the cars are complete, an amusing competition between the teams is arranged. How well can the driver and each team cooperate? Does the car work?
Guided Canoeing on Mustio River or Lake Lohja
Spend a refreshing day outdoors paddling, or bring your meeting day to an enjoyable conclusion with a relaxing canoe trip. Programmes are planned according to each group's skills and abilities. Before each trip begins, guidance is given regarding canoeing technique and safety issues.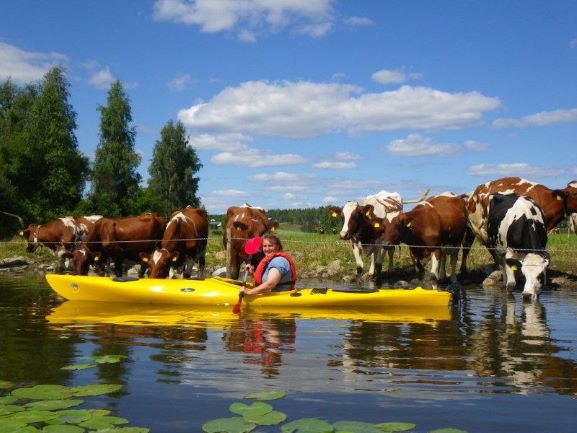 Mustio River by canoe or kayak, about 2 h:
We paddle along the beautiful Mustio River, past the ruins of the ancient earthworks at Junkarsborg and then across Lake Päsarträsket to Mengels beach. This trip involves about 2 h paddling.
Taxi back to Svartå Manor at additional price.
Lake Lohja by kayak, about 2 h:
Paddle along the beautiful Lake Bruksträsket to Lake Lohja. Along the way we can observe the nature reserve near Blåsippsberget. Then canoe across Lake Lohja, in the heart of Finland's rich lake landscape.
Guided Stand Up Paddling, 1-1,5 h
Stand Up Paddling is easy to learn and an amazing full-body workout. SUP means paddling standing on a surfboard, experiencing the surrounding nature from a new perspective.
Learn the Stand Up Paddling technique and relating safesty issues while enjoying the beautiful sea landscapes.
Manor Games, about 2 h
We are living the manor life in bygone days playing enjoyable team games. We play traditional skittles and pétanque, throw darts, test our skills in hosepipe throwing, recycle human letters and nail with the 'wrong' hand.
Summer Games at Svartå, about 2 h
Exciting and fun-filled team events - ideal for a summer's day!
Lawn Floorball
Summer version of the well-known indoor team game played outside on grass without goalkeepers. Skills are not the decisive factor in this game - you need determination and a good team spirit.
The Harry Potter Game
Instead of flying broomsticks we 'fly' on flexible canes during this game. Your tactics have to be honed so that the ball can be shot through the hoop-shaped goal or the 'golden snitch' is captured.
Ball Golf
Each member of your team throws their own ball towards a predefined target, then makes the next throw from the place where their ball hit the ground or some other object. The team whose members take the smallest number of throws to reach their targets is the winner.


Team Rafting, about 1,5 h
The ability of team members to cooperate successfully is tested as they construct a raft. Everyone is involved in designing and building their team's vessel using the materials provided, and then it has to be steered along a marked course. Each team selects its own "oarsman" and the winning team is the one whose raft is the first to cross the finish line.