Locations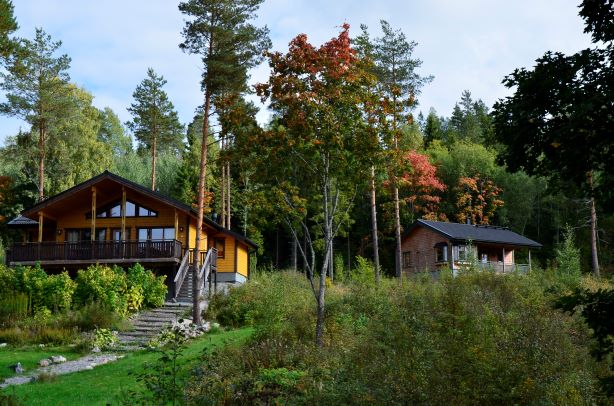 Our meeting and celebration facilities are located near Siuntio, surrounded by the intriguing cultural landscape that Aleksis Kivi drew on in his writing. If you want to arrange a meeting or festive occasion in a peaceful rural environment close to nature rich in flora and fauna, we offer a range of locations from wilderness to modern conference facilities with everything you need.
We'll be happy to tell you more - contact us!
Tel: +358-9-256 4040
info (at) seaction.com
Meetings, celebrations or sauna in our pavilion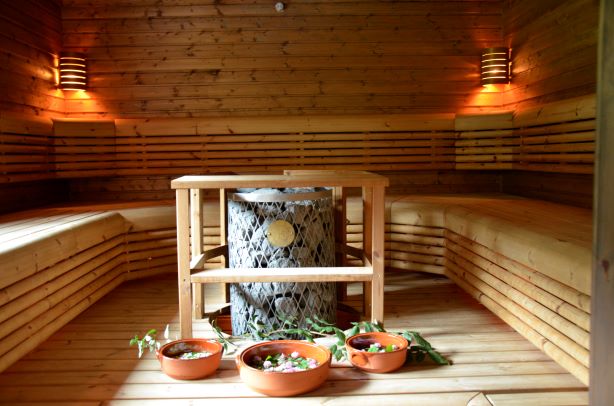 Our conference pavilion in Purnus Jokilaakso is designed for meetings or festive occasions attended by 10-30 people. The large terrace offers beautiful views over our beautiful river valley. The flowing water and surrounding nature create a peaceful, unhurried atmosphere.
The pavilion sauna holds 10-15 people. With larger groups, the saunas in our two cottages can also be used to avoid any need to queue.
The pavilion kitchen provides your group with food throughout the day as requested. If you wish, meals can also be arranged in natural surroundings - one option is our river terrace.
Cottage meetings for small groups with all the technology you need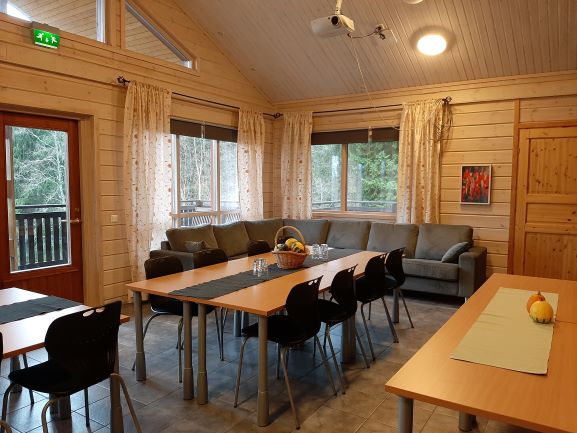 Our fully-equipped cottages are ideal for meetings involving six people or less. There's room for everyone at the kitchen table and the TV can be used for presentations. Why not make things even more relaxed and use the comfortable sofa? Wireless internet and a flip chart are of course available.
Quality meals from the Purnus Jokilaakso kitchen are easy to arrange.
Enjoy the wilderness atmosphere in our huge kota
SE-Action's 80-person kota (a Lapp tent) in the forest at Purnus Jokilaakso can be rented for private and company events. The kota makes it possible to arrange memorable group activities around an open fire, in the middle of nature and far from the hustle and bustle of business.
The kota has an earth floor, log tables and benches. The central fireplace ensures an atmospheric setting. Food ranging from 'picnic-style' baskets to a festive evening meal can be supplied by our own kitchen.
Memorable celebrations, lively parties, serious business meetings or just enjoying being in the middle of nature with friends are all easy to arrange in the kota.
Our kota is looking forward to giving you a warm welcome!
Expansive landscapes on our cliff terrace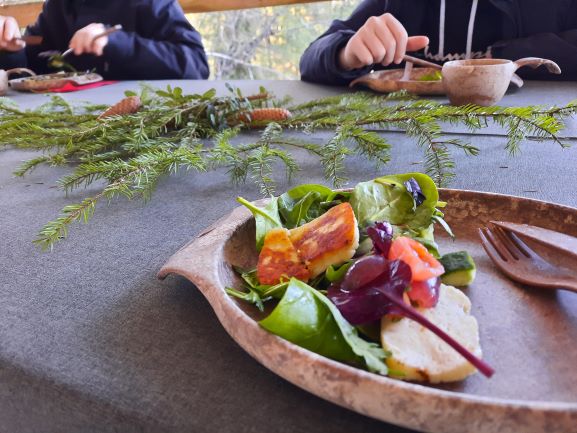 Our cliff terrace is on a high ridge, offering marvellous views of the river valley and the surrounding farming landscape. The long table and birchwood benches can seat up to a hundred people. It's great place to enjoy eating an evening meal and watching the sun go down.
Contact us and we'll work with you to plan a delicious menu suitable for enjoying on the cliff terrace.
Tel: +358-9-256 4040
info (at) seaction.com