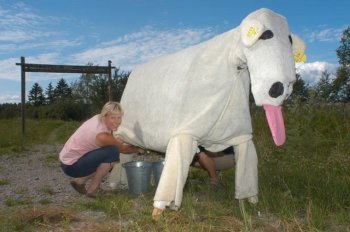 Our Farm Rally is an amusing programme which takes place at Purnus Jokilaakso. Based on the excellent feedback we have received, we can recommend it to people of all ages and sizes. It's a great way of adding exercise to a meeting or training day.
We start on a field as that's where farming activities mostly happen. The fun tasks featured in the Farm Rally competition really are connected with farming work in one way or another: handling horses, milking skills, a mystery concerning a real pig, constructing an EU-standard egg box and testing it, and of course the Wheelbarrow Rally.
At Jokilaakso, we get into the right mood by enjoying morning or afternoon coffee. The fun begins when we start an amusing team competition in which everyone can experience how farming work was carried out "in days gone by".
Meals can easily be provided from our own facilities - suitable menus and timing can always be agreed.
Contact us to plan a fun "farm style" day for your group!
Tel: +358-9-256 4040
info (at) seaction.com