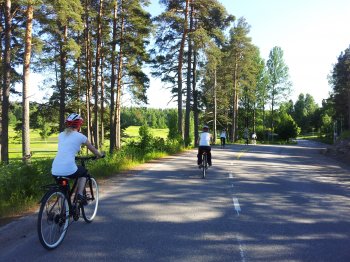 There are so many fascinating places for cycling or hiking trips. Customised routes and content can involve a light training run, a picnic trip, a nature walk, cultural trip or a combination of these. The possibilities are almost endless!
Examples of routes suitable for hiking are from Störsvik in Siuntio to Kopparnäs, through the Fiskars forests, in the Meiko Nature Reserve and in Purnus Jokilaakso - the last location being combined with a visit to Fanjunkars, Aleksis Kivi's former residence in Siuntio, in the "Following in Aleksis Kivi's footsteps" theme trip.
To make cycling trips easier, SE-Action now offers quality hybrid and mountain bikes and transportation, enabling your trip to happen in just the way you want it to. In Siuntio, interesting locations include the Gårdskulla Agricultural Museum, the writer Aleksis Kivi's former home Fanjunkars and the mediaeval SjundbyManor. In Fiskars, the surrounding nature and attractions offer many opportunities for cycling trips.
We have plenty of ideas for new trips - contact us and we'll customise them to suit your needs!
Tel: +358-9-256 4040
info (at) seaction.com