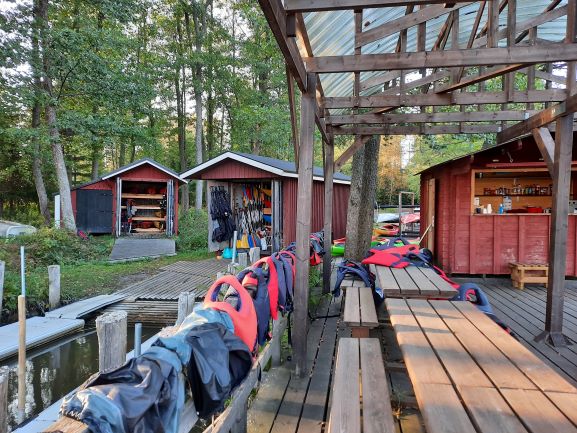 Because of Covid-19, all bookings in advance via phone or e-mail.
Siuntio Canoe Center is located in Siuntio at Störsvikintie 140, just a 30-minute drive from Helsinki.
Otsolahti Canoe Center is located in Espoo, near the center of Tapiola, at Sateenkaari 9.
Inkoo Canoe Center is located in the heart of Inkoo at Ola Westmanin puistotie 1.

At the Siuntio Canoe Center individuals and groups can rent canoeing equipment for independent trips up the Siuntio River or out into the archipelago. As the current is gentle in summer and winds are light, the Siuntio River is a safe canoeing environment suitable for paddlers with no previous experience.
The kiosk on the terrace at the Canoe Centre offers snacks, coffee and a selection of ice cream flavours. The view from the terrace is beautiful, making it a great place for a nice break.
From Otsolahti Canoe Center you can go paddling in the beautiful archipelago of Espoo and Helsinki, or you can go feel the beat of the city from sea perspective.
Delicious snacks for trips to nearby islands can be found at our neighbour Café Otsolahti.
From Inkoo Canoe Center you can try river paddling a short distance up the Inkoo river, but mainly we offer beautiful archipelago routes.
Cafe Wilhelmsdal offers delicacies, such as handmade Sjundby Ice cream and lovely picnics.