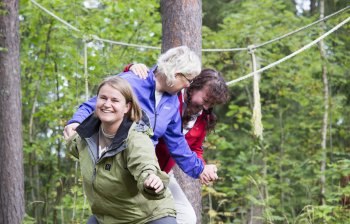 Our Adventure Track activities strengthen cooperative skills, as they all require help from your friends. The track is situated in the woods of Purnus Jokilaakso.
Tasks on the low track:
Crossing the Chasm – moving from one side of a rock gap to the other using the equipment provided, making sure no-one falls into the "chasm".
Low Wire Track – groups make their way along the track, helping each other to keep their balance. Some useful items can be found along the way.
Spider's Web – a huge spider is guarding its web. Everyone has to make their way through the web without waking the spider.
Electrical Triangle – the group finds itself surrounded by an electric fence. How to get out...?
Low Log Track - a challenging but fun task recalling a bygone world, balancing on a moving log without falling off.



All tasks are performed under the supervision of trained instructors. The important thing is that everyone succeeds and that the group has as much fun as possible!

Tel: +358-9-256 4040
info (at) seaction.com