Fiskars Nature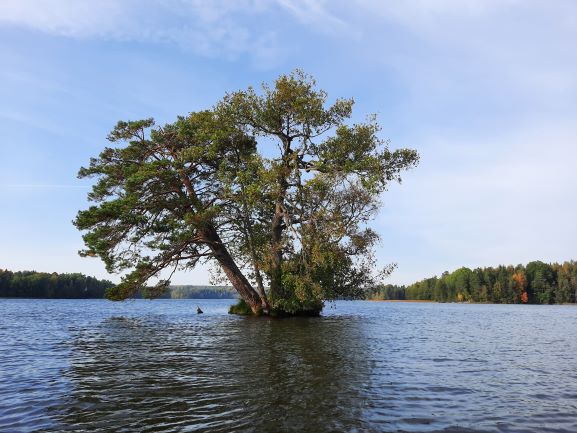 The Fiskars ironworks was founded in 1649 by Pohja Parish, at that time the centre of iron manufacturing in Finland. Pohja and its surroundings had unused hydropower resources and plenty of charcoal manufacturers. Dozens of untouched lakes and undisturbed forests still surround the ironworks. Some 10% of the forest in the area are now protected, and the remainder is very carefully managed. This natural wilderness with its crystal-clear lakes and wildlife is a nature lover's paradise.
We organise enjoyable group programmes in the marvellous nature surrounding the Fiskars ironworks. Enjoy them on their own or as light relief after a meeting or conference day.
Our nature programmes can also be customised to suit your exact requirements. Great hiking, real rock climbing for beginners, canoeing, trip skating and snowshoe walking. Options include meals outdoors in natural surroundings and a wilderness sauna experience.
Mountain Biking - Fiskars Village Trail Center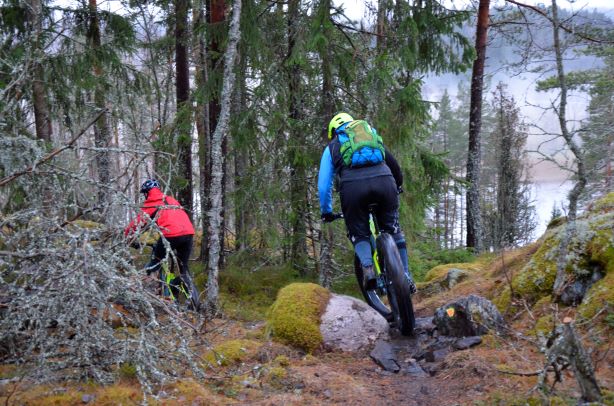 Amazing mountain bike trails have been opened in Fiskars Village. Enjoy the thrill of speed in beautiful surroundings!
The first mountain bike trails were opened in the summer of 2016 and they all start at the heart of the Village and go towards Rövarberget. At the moment there are trails of three different levels of difficulty. Check the trail map: Fiskars Village Trail Center / Reittikartat
SE-Action offers guided bike trips, both by mountain bike and fatbike.
Contact us to plan a trip that suits your group!
Tel: +358-9-256 4040
info (at) seaction.com
Nature programmes for groups
Enjoy Fiskars' beautiful nature to the full with one of our nature programmes. Some alternatives are listed below, but they can always be customised in any way you wish. Great hiking, real rock climbing for beginners, canoeing, trip skating and snowshoe walking. Options include meals outdoors in natural surroundings and a wilderness sauna experience.
Paddling on Fiskars Lakes
The ironworks is surrounded by marvellous natural wilderness and numerous lakes. We organise guided canoeing trips for groups to three different locations.
Games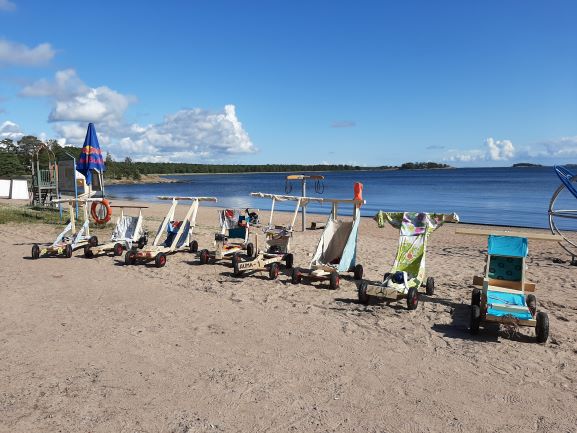 Playing games is a great way for your group to enjoy the feeling that comes from doing things together. Some alternatives for making your Fiskars day even more enjoyable can be found below.
Ironworks Games, about 2 hours
We're living in the age of ironworks and enjoyable team games. We play traditional skittles and pétanque, throw darts and hosepipes, recycle human letters and nail with the 'wrong' hand.
Summer Games at Fiskars, about 2 h
Exciting and fun-filled team events - ideal for a summer's day!
Problem solving
Working in pairs to stimulate your brain and solve thorny problems. Some of the tasks are practical, so you'll be doing more than sitting and thinking...
The Biggest Loser, about 2 h
As in the well-known television series, players in this game attempt to lose as much weight as possible. Members of each team are first given extra weight to carry, and then have to get rid of as much as they can by completing tasks and solving puzzles. These typically involve Fiskars' secret language, choreography, balancing, endurance, answering questions connected with health and exercise, sporting performance and problem solving. When all the tasks have been completed, each team's members are weighed and the winning team is rewarded with resounding applause or magnificent prizes.
Skills of the Fiskars Wilderness, about 1,5-2 h
Skills of the Fiskars Wilderness is a fun and enjoyable competition that test the wilderness skills of anyone in normal physical condition and people interested in such things. The programme includes making fire and making your own tea, identification of plants, berries and mushrooms, knots to use in life-saving situations, medicines from nature and measuring the height of trees. Useful skills for everyday life!